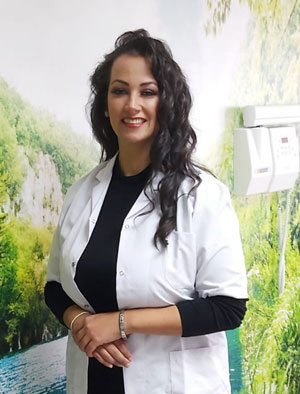 Dr. Ayşe Sütcü Tuver qualified in 2006 from Kings College London, dental faculty with her BDS (Bachelor Of Dental Surgery).
2006-2007 NHS, East Harling Dental Practice, GDP

2007-2008 NHS &Private dentistry, Beech House Dental Practice, Norfolk, GDP

2008-2009 Member of the board at the Local Dental Council of Norfolk&Suffolk NHS &Private dentistry Cosmetics and oral surgery, Beech House Dental Practice, Norfolk, GDP

2009-2010 Dr. İzgü Beyar clinic of peadiatrics, Republic of Northern Cyprus, Nicosia,GDP

2010 ~ Present day Dental Principal at London Dental Care, Famagusta, Northern Cyprus

GDP with specialist interests in Oral surgery/implantology and Cosmetics & Facial aesthetics
Don't let anyone dull your sparkle. Let the expertise of Doctor Ayse Sutcu at London Dental Clinic take care of your most precious asset – your smile. London Dental Clinic are based in Famagusta town center, situated just off the main Ismet İnönü Boulevard.
Restoring a smile in people with great doctor-patient relationships is what 'dentistry' means to London Health Clinic. London Dental Care clinic is equipped with the latest technology.
Dental tourism has become an increasingly common occurrence for treatments abroad. London Dental Clinic provides helpful information about travelling to North Cyprus for dental treatment including detailed costs and quotes. Many patients decide to combine a dental visit with a few days of sun, sea and sand. Once the patient has made the decision to visit North Cyprus the process is much faster than usual in Europe. The clinic will immediately book a time for consultancy at a time suitable for you. If the patient is already in Cyprus the clinic can, usually, book an appointment the same week that the patients call the clinic for booking which enables the patient to finalise the treatment before the vacation ends.
The high quality treatment, low prices and short waiting times are great incentives to come here to begin your treatment. Travelling to North Cyprus for a complete cosmetic dental make-over is becoming common. The highest level of general and cosmetic dentistry, dental implants, and specialist treatments to enhance patients smiles are affordable and on offer.
The practice prides itself with a level of service where each patient leaves satisfied with the Hollywood smile confidence. She feels statements need to be proven, and specifies the importance of one's mouth as a vital part in one's health and lifestyle. Their dental practice policy is simple, each and every patient deserves to receive the best dental care possible, and they ensure all their patients receiving just this formula.
Their services include;
Implants: Dental implants are the closest possible alternative to actual tooth replacement.

Minor oral surgeries: Some dental procedures require surgery at a small scale.

Crown and bridge work: To cover the tooth to restore its shape and size, strength, and improve its appearance.

Cosmetics: Aimed at creativity, creating a positive change to your teeth and to your smile.

Root canal treatments: Repair and save a tooth that is badly decayed or become infected.
Opening hours:
Monday to Friday between 10 am to 1 pm and 2 pm to 6 pm.
Saturday between 10 am to 2 pm and closed on Sundays.
Phone: +90 392 365 41 44
Mobile: +90 533 884 97 22